Summative Test Grade 2 Quarter 3
Summative assessment is a type of evaluation that is conducted at the end of a learning period, course, or academic year. It aims to measure the level of knowledge, skills, and understanding that students have acquired during a particular period of learning. Summative assessment is typically used to evaluate the effectiveness of teaching and learning processes and to assign grades or scores to students.
There are various types of summative assessments, including standardized tests, final exams, term papers, and end-of-course projects. These assessments can be either formative, where the evaluation is designed to provide feedback on learning to students, or norm-referenced, where the assessment measures how well a student performed in comparison to others.
The importance of summative assessment lies in its ability to provide a comprehensive evaluation of student learning, which can be used to make important decisions about academic programs, curriculum design, and individual student performance. It provides a snapshot of what students have learned and how well they have learned it, which can be used to identify strengths and weaknesses in teaching and learning practices, and to provide guidance for future learning experiences. Additionally, summative assessment is often used as a tool for accountability, as it helps to determine whether schools or educational programs are meeting their learning objectives and performance goals.
Wait for the download button to appear after the time expires.
Share this post to your friends!
Download the PowerPoint Presentation here!  
Download the Assessment here! (Pre/Post Test 
Download the Worksheets here!
Check related post below!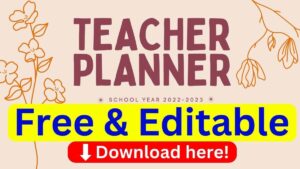 Free Editable Teacher Planner 2023 Teachers utilize a planner, either a notebook or a binder, to schedule their time, complete activities, and keep track of
Read More »
Follow and like our Facebook Page for free lesson plans and learning materials. Click the link below.
Join our Facebook Groups below for you to be updated for the
latest CPD, NEAP, DEPED webinars and trainings.
Disclaimer: All information and materials posted here in this website is for educational purposes only. The website serves as an avenue for educators to share their materials to help other educators. If you want to share your own educational resources, you may send it here 2020learningpal@gmail.com. However, if you found your materials shared here and you want to remove it or want to have proper credits, please don't hesitate to contact the admin at 2020learningpal@gmail.com. Thank you!
Sign – up below to receive Free Learning Materials.