Deped Resignation Process 2022
How to Apply for Deped Clearance
Want to teach abroad? Learn how to apply for clearance from DepED to teach abroad!
Today I will share to you the process and details on how to apply clearance in Deped based from a Deped teacher experience. This article will help you to have a better and efficient process of applying for the Deped clearance. This article will cover the requirements needed, gsis and private bank loans, division and regional clearance and more tips.
Disclaimer: This process is based from the experience of a teacher from Deped NCR. Other regional offices, SDO's and school might have addtional requirements and steps you need to undertake.
1. Important Documents needed to prepare for resignation process and clearance.
Prepare the important documents you need in your Deped resignation process. The Deped Resignation letter is a letter  a very important document because that signifies that you will be leaving your current or present employment then um government officials employers. The employees follow the 30-day notice upon submission of the resignation letter meaning you need to submit the resignation letter 30 days before the effectivity date which is also based from labor code article 285. 
2. Preparing the school clearance.
After you submit your resignation letter the superintendent herself or himself will issue an acceptance letter and another document called the special order then you need to keep that one because you will be using that to other documents and  while waiting for the effectivity date and resignation you can simultaneously process your school clearance so it's a very important document also because requirement in division clearance so you must be free from different accountabilities like in property custodian, forms and the coordinators need to sign the clearance and lastly is your principal. There is no unified format for the school clearance and it depends on the school template.
3. After the school clearance, work now in your division clearance.
If your done with the school clearance you may now proceed with the division clearance. The division have various offices that need to sign to your clearance. The division clearance i noticed that they follow a unified format throughout the different divisions so they take that or took the format or template from civil service commission form 7 series of 2018. Take effort in complying the requirements in the division office. if you have a provident loan you have to pay that to be cleared in the accounting office whether you have a provident loan or not you have to secure a certification clearing you from provident loan for the SDS to sign your clearance. In the legal unit you have to secure a certification that you have no pending case.
Some SDS do not sign imemdiately the division clearance and they ask one more requirements the CLP or certificate of last payment. The certificate of last payment is you can get that from the regional office whihc have also requirements like DTR your last reporting in your school, latest service record which have the word resigned, Form 6 leave of absent with and without pay. Based from this I advice that you process immediately your CLP so that it will not take any longer. 
1. Indorsement of the Schools Division Superintendent
2. Division Clearance (Signed by the Principal/Supervisor/OIC)
3. Latest Service Records
4. Daily Time Record (DTR); and
5. Approved Leave with or without pay (Form-6)
Bring the hard copies of the evp requirements to the record section of the original office and those documents were reviewed and forwarded to the regional director and had the endorsement letter signed. The requirements for the evp or the exchange visitor program so the first one is the endorsement from sds division and school clearance certificate of last payment latest pay slip certificate of no pending case yeah and if you have an existing loan orloans from pli or gsis.
So what if you have loans You need to provide a special power of attorney both are signed by the teacher and the attorney in fact and the authority and notarized undertaking of unpaid loans indicating that the attorney in fact we'll pay the existing obligations during the teachers travel enumerating the concerned plis or gfi both sign  by the teacher and the attorney in fact.
Those are the evp requirements and to have you given the endorsement letter from the regional office and that is the regional clearance so it took five business days before the signed endorsement was forwarded to the central office.
1.These documents will be submitted to the Civil service commision: ( 4 copies)
 a. Resignation letter b. SALN – date na nakalagay ay date before the resignation c. division clearance d. school clearance e. service record.
2. Addtional requirements for J1 teachers
a. Indorsement from SDS b. Division and school clearance c. certificate of last payment d. latest pay slip e. certificate of no pending case.
3. If with existing liabiities/obligations to PLI's/GFI's (loans):
– special power of attorney (both signed by the teacher and the teacher-in-fact. – notarized undertaking of unpaid loans 
Check related post below!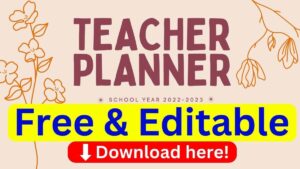 Free Editable Teacher Planner 2023 Teachers utilize a planner, either a notebook or a binder, to schedule their time, complete activities, and keep track of
Read More »
Join our Facebook Groups below for you to be updated for the
latest CPD, NEAP, DEPED webinars and trainings.
Sign – up below to receive Free classroom decorations.
Follow and like our Facebook Page for free lesson plans and learning materials. Click the link below.