Free Editable RPMS 2023 Template
At various career stages, the RPMS Tools are assessment tools used to assure effective teacher performance. The Key Result Areas (KRAs) for the realization of those obligations and the precise aims to achieve the KRAs are described, along with the roles and responsibilities of teachers at various career phases.
Why is the rpms PPST significant for educators? "By integrating the RPMS with the PPST, we improved teacher effectiveness and quality. Therefore, the PPST-based RPMS will be used to achieve the important documentation and validation of high standards of teaching practice, according to Usec. said Cabral.
What are the PPST, or Philippine Professional Standards for Teachers? a set of professional requirements for educators that elaborates on lifelong learning for teachers and operationalizes components of the K–12 reform related to teacher quality. Each career level has 37 performance markers. It offers instructors and other interested parties a respectable shared language for professional interactions.
Share this post to your friends!
Download the PowerPoint Presentation here!  
Download the Assessment here! (Pre/Post Test 
Download the Worksheets here!
Check related post below!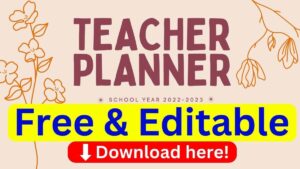 Free Editable Teacher Planner 2023 Teachers utilize a planner, either a notebook or a binder, to schedule their time, complete activities, and keep track of
Read More »
Join our Facebook Groups below for you to be updated for the
latest CPD, NEAP, DEPED webinars and trainings.
Sign – up below to receive Free Learning Materials.
Follow and like our Facebook Page for free lesson plans and learning materials. Click the link below.
Disclaimer: All information and materials posted here in this website is for educational purposes only. The website serves as an avenue for educators to share their materials to help other educators. If you want to share your own educational resources, you may send it here 2020learningpal@gmail.com. However, if you found your materials shared here and you want to remove it or want to have proper credits, please don't hesitate to contact the admin at 2020learningpal@gmail.com. Thank you!